---
PAT Tester Comparison Chart
Choosing the right PAT tester can be a tricky process. There's a massive selection of different devices available on the market today and each of them tends to have different functionality depending on the type of PAT tester.
To help you choose exactly which unit is right for you we've put together this comparison chart that lists the most commonly desired features of PAT testers against the most popular models on the market. This way you can tell at a glance exactly what each tester is capable of and it is easy to make a decision based upon this information.
---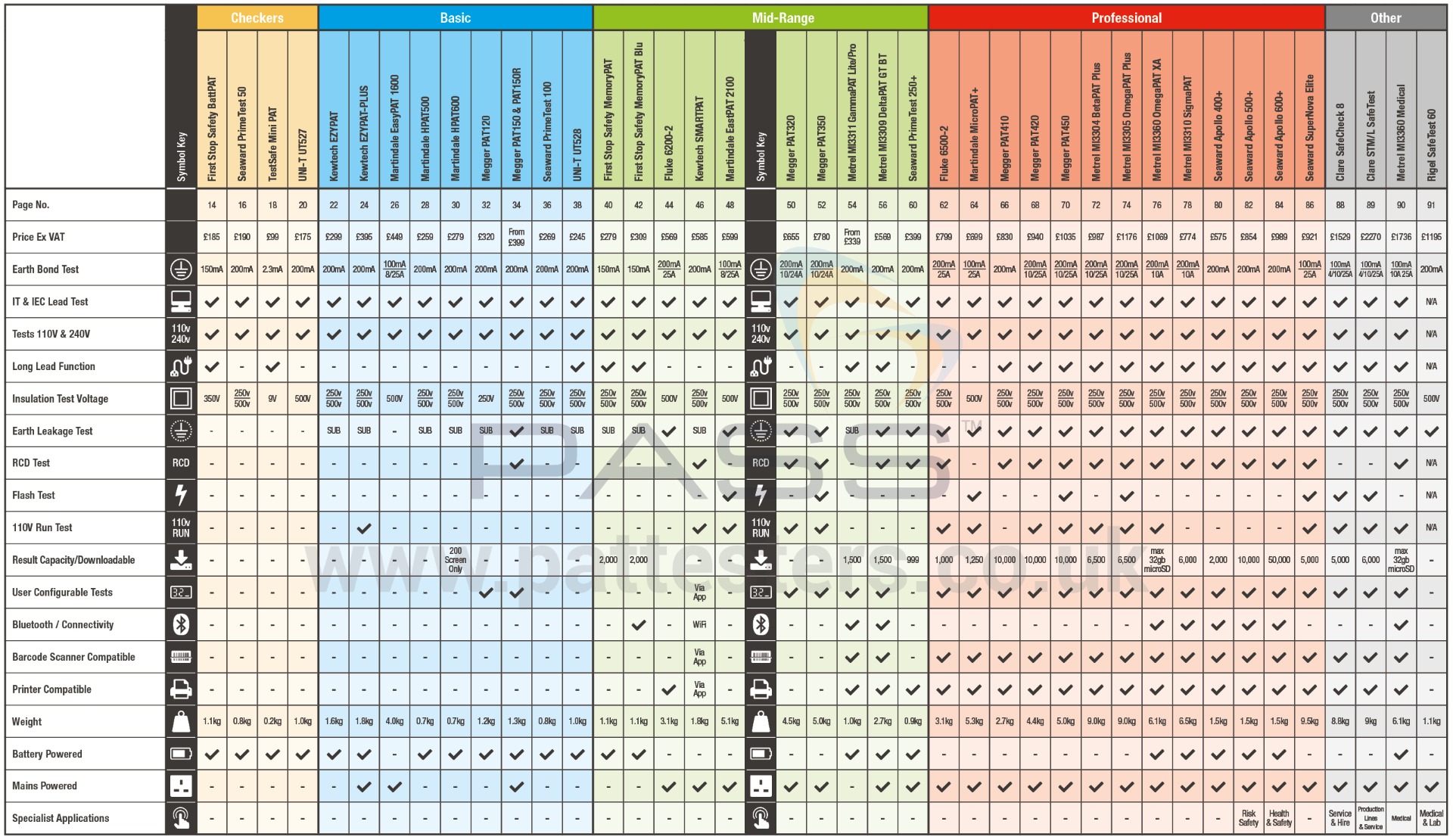 ---
PAT Types Explained
Checkers
Basic testers are usually recommended for charity shops and repair shops where the items tested won't need testing yearly. These PAT machines do not give results, just a simple pass or fail.
Budget/Basic
These models do the bare minimum requirements of PAT testing. They're ideal for those newer to the market or for carrying out low volume testing. All testers available in this range are manual and don't contain the ability to store/download information. They're ideal for charity shops, small hotels and businesses with a small number of appliances.
Mid-Range
The PAT testers available in this category are a mixture of downloadable/non-downloadable devices. They are similar to basic PAT testers but generally include more features, wider testing capabilities and are better suited for larger PAT testing applications.
Professional
Also known as downloadable PAT testers, these are the best units on the market. Mainly used for large volume testing by professional PAT testers, these devices allow the full scope of testing to be carried out using automated procedures and allow the logging/download of comprehensive PAT testing data.
Other
These PAT testers have specialist applications, outside of standard PAT testing. The functions are listed at the bottom of the chart.
---
Popular Pages