PAT Testing in Schools
Some people might question the importance of PAT Testing, but children in the school areas don`t pay attention or care to electrical appliances, even though they are used on a regular basis. After the school term starts the number of the damaged appliances can increase dramatically within a relatively short period of time.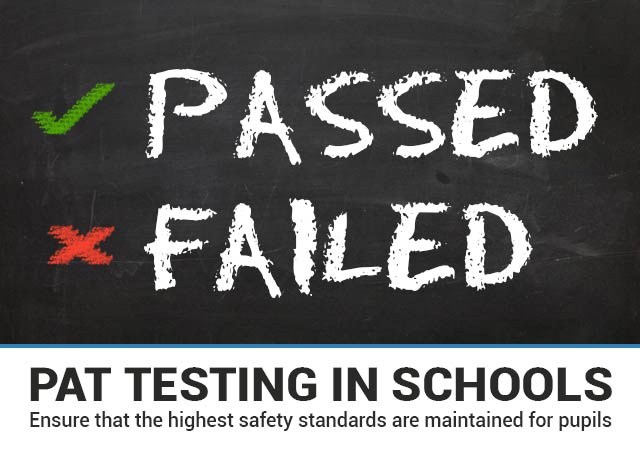 To ensure the safety of everyone Portable Appliance Testing (PAT) is the best way to manage your electrical appliances and helps to keep track of wear and tear highlighting anything that may become a future threat. It is the preferred method for insurance companies and helps you to comply with the Electricity at Work Regulations 1989. It proves you have methods in place and that you are maintaining your electrical devices on a regular basis.
The Health & Safety Executive doesn`t set a specific rule for the frequency of PAT testing, however, if you don`t have a system of maintenance in place, faults will not be picked up and managed increasing the likelihood that someone could get hurt. The main risks associated with faulty electrical appliances are electric shocks and fire.
How often do schools need to PAT Test?
As a minimum all Class I equipment in schools should be PAT tested every 12 months, Class II equipment should be tested every 48 months. However, you may want to carry out intermittent tests on items that might have been heavily used, new appliances or items that are brought into the schools from outside.
Alongside the major cost saving and how accessible your school areas are, owning your own PAT testing equipment and having the skills in-house to carry out testing can make great sense.
Which electrical appliances are recommended to test in your school?
There are two types of appliances that can be checked with a portable appliance tester, Class I & Class II.
Class I: Refers to the protection that is provided by a combination of insulation and use of the mains Earth. When PAT testing Class I appliances, the earth continuity and insulation resistance tests are both carried out.
Class II: In the case of a Class II appliances, the user is protected by at least two layers of insulation, they are also known as Double Insulated. Therefore they do not require an Earth connection.
Typically the following equipment may be found in staff`s rooms, classrooms and office areas of a school building: computers, printers, photocopiers, projectors, radios, screens and monitors, franking machines, shredders and lamps.
In the school kitchen, you will probably have kettles, toasters, food mixers, microwaves, fridges, freezers and coffee machines.
In fact, any appliances with a plug attached should be PAT tested including extension reels and appliance cables, power cables, extensions leads, electrical clocks, charging units could be easily missed but also need to be checked.
Who & How to carry out PAT Testing?
You do not have to hire anybody and you do not have to spend a lot of money to make your area safe. You can easily do your own PAT testing in-house with your own PAT Tester machine. All you need is a competent person. A competent person can be a staff member such as a janitor or maintenance person. To become competent, it is recommended that a person completes a PAT Testing Training Course. There are various courses available depending upon the person and what kind of training method that they prefer.
Choosing the right PAT Testing Equipment 
PAT Tester Kits are the best ways to make the most of your PAT testing budget, you can find everything that you need in one kit. They come with different labels, training DVD, handbook, logbook and much more. For larger schools, you may want to use a downloadable PAT Tester or a PAT Tester that combines an asset management tool.
Some of the latest models on the market can help with your health and safety and can record any workplace test or inspection, providing a full preventative maintenance regime. So for example, fire alarm checks, fire extinguisher inspections and emergency lighting can all be easily recorded and managed by one tester.
The PAT Testing Training DVD & Exam is fully accredited by NAPIT *. The DVD comes with a full exam which can be completed after watching the DVD and will certify you as being suitable to carry out PAT Testing.
You can carry out your PAT testing on your own whenever the time suits you. Carry out PAT testing yourself or train up your staff!
Below you can find some models which are highly recommended to the school environment:
Low Volume Testers:
UNI-T UT 528 PAT Tester - PAT Essentials Kit
Seaward Prime Test 100 PAT Tester - PAT Essentials Kit
Kewtech EZYPAT PAT Tester - PAT Essentials Kit
Medium Volume Testers:
Martindale HPAT 600 HandyPAT PAT Tester Essentials Kit
Kewtech SMARTPAT PAT Tester - PAT Essentials Kit
Fluke 6200-2 PAT Tester - PAT Essentials Kit
High Volume Testers:
Seaward Apollo 400+ PAT Tester - PAT Essentials Kit
Seaward Apollo 500+ PAT Tester - PAT Essentials Kit
Seaward Apollo 600+ PAT Tester-PAT Essentials Kit
If you have any further questions or you need any further assistance please call our team of experts on 01642 987 976 they will happy to assist you or visit our website to have a look at our full range of PAT Testers and PAT Tester Kits.
*National Association of Professional Inspectors and Testers (NAPIT)