PAT Testing in a care environment is essential to keep both employees and residents safe from faulty or damaged electrical equipment that has the potential to cause shocks or fire.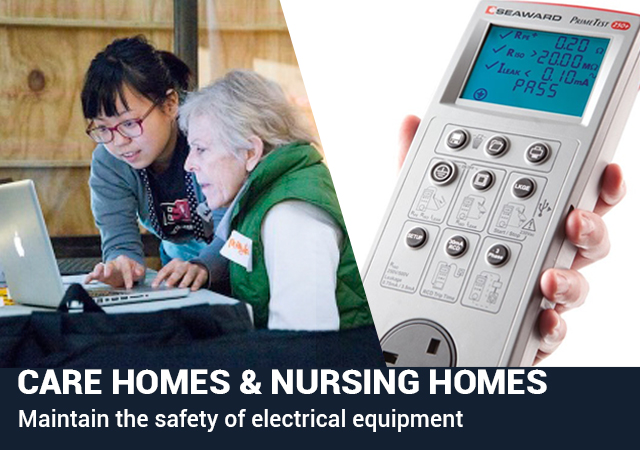 In a busy care environment, obtaining access to rooms, CRB checking contractors and scheduling can be a bit of a disruption. Therefore many care homes are now opting to carry out the testing themselves and utilise their in-house maintenance people.
This provides them with much more flexibility, items can be added and tested when access is easier and it also ensures that items are kept maintained on an ongoing basis.
It is quite surprising how many items a care home can house and to add to the list are all of the items that residents bring with them from home. TVs, lamps, extension leads, not to mention all of the office equipment such as computers, printers and kitchen appliances, the list goes on.
Why do you need to carry out PAT Testing?
The Electricity at Work Regulations requires electrical systems to be maintained so that they remain safe during the use. This refers to everything which is electrical, from the wiring in the building to the electrical appliances.
It is also for a requirement for your insurance provider. The PAT Testing records that you keep are the evidence that you are doing everything practicably possible to ensure safety.
Increasingly, Insurance companies are stipulating Portable Appliance Testing as a necessary condition of insurance on most business. If there was a fire and the management of the estate couldn`t show that regular PAT Testing had been carried out, some insurance companies could take this into account when arriving at settlement figures.
In addition to the above reasons, there are a number of Health & Safety regulations that are in place to protect employees from danger.
Who can PAT Test?
To carry out PAT Testing you do not need to be an electrician. Anyone who is deemed competent can carry out PAT Testing.
With the correct equipment and the right knowledge most people can do it.
Having your own PAT Testing machine and a competent person on hand not only helps you to comply and keep everyone safe but it can also save you money in the long run.
How could you gain competency?
Most people take a PAT Testing Competency course, which is a one-day training course that covers both the practical and theoretical aspects of PAT Testing. At the end of the course you take the PAT Testing exam. On successful completion you will gain a Certificate of Competence in PAT Testing and then you are ready to start.
There are various other ways to get competent, such as the PAT Testing DVD course with online exam, it is important you choose the method that is most suited to you.
What equipment do you need?
To carry out PAT testing with the smallest disruption, a portable easy-to use PAT Tester is recommended, which clearly show the PASS/FAIL results, but also provides numerical results. They are simple enough but they still have versatile functions to meet special requirements.
A PAT Testing kit contains everything you need to be able to carry out the PAT Testing professionally. They also include a PAT Testing Training Course DVD which explains everything about PAT testing and you can easily become a fully certified PAT tester.
In-house PAT Testing is not just cheaper. It is also quicker and by having a PAT testing machine at the premises, allows you to check any appliance at any time improving your electrical safety.
The Best PAT Testing Kits for Care Homes
Low Volume Testers (up to 350 items)
First Stop Safety BATTPAT
UNI-T UT 528
Kewtech EZYPAT
Megger PAT 150
Seaward Primetest 100
Medium Volume Testers (up to 500 items)
Martindale HPAT 500
Martindale HPAT 600
Martindale EasyPAT 2100
High Volume Testers (Over 350 items)
Seaward Apollo 400+
Seaward Apollo 500+
If you want to see our full range of PAT Testers, please click here.
If you have any questions or you just need some expert advice, please, don`t hesitate to contact me on 01642 987 976 or send an email to info@pattesters.co.uk