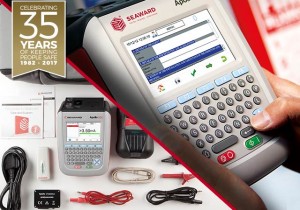 If you work as an electrician you have surely heard of the Seaward brand and their products. Seaward is a British company, based in the North East of England. A vast majority of Seaward's products, used in their assembly, are UK sourced. Seaward is a market leader when it comes to the manufacturing of electrical safety testing equipment; they cover a wide range of products from PATs and medical test equipment, to high voltage testers.
Seaward was the first manufacturer to produce a PAT tester with a built-in memory. It was also the first brand to produce a handheld PAT tester; a battery-powered PAT tester; a PAT tester with integral camera and the first PAT tester with built-in risk assessment.
This year Seaward celebrates its 35th anniversary. For this occasion we have put together a Premium Kit in which you have everything that you need: in addition to a PAT tester, socket tester and microwave leakage detector, these kits also include a handbook, labels and a training DVD with an online exam to help you get your qualification.
The Seaward Apollo 500 PAT Tester is still one of the most popular products in the market, and it's easy to see why. See below to find out why it could be beneficial for you:
Huge memory - store up to 10,000 appliance records; this feature makes the Seaward Apollo 500 a versatile and dependable tool for high volume PAT testing.
Complete system - PATGuard 3 software provides a full record of easily downloadable test results, making the creation of reports very simple.
Portability - the Apollo 500 is a handheld, battery powered PAT tester, which makes transporting it from one place to another quick and easy.
Flexibility - you can set up your tester according to your own personal preferences, using your own logos, test preferences and test sequences.
Connectivity - easily connect to your mobile, printer or scanner via Bluetooth, thereby ensuring quick and easy data management and logo printing.
Full range of tests - offer a full range of services to your customers using only one tester.
If you would like to know more about the Seaward Apollo 500 Premium Kit, please check out this link: https://www.pattesters.co.uk/apollo-500-pat-tester-bundle-1.
If you have need of further assistance, please call our sales team on 0845 365 72 77, or visit our website to browse our full range of PAT testers: https://www.pattesters.co.uk/all.